Chronicle 2004

Visiting cousin Henny in Litschen as we do almost every year. The door sign (Scholze) is the work of son Günter. He made it in the time before he became a musician. To the left the building of the former water mill, to the right of it the apartment house. Peter was there in 1953 for the first time. In those day the water mill and the bakery were still in full operation. Henny is 80 years old in the meantime and lives there all by herself.



In Berlin we visited our friends, the Marsings. They took us along to a jazz concert and to a birthday celebration in the Antiquarium at the outskirts of the city . In front of the Humboldt university in center city a Humboldt memorial donated in 1939 by Cuba.



On the way back we made a detour to Eisleben in order to visit cousin Gerda and her family. In the blue building, which has quite a large inner court yard, live Gerd-Carsten with his family. Gerda and Gerd-Carsten at the fish pond in the garden of the house.


Bike trip of the Munich American Peace Committee and friends





In October 2004 Peter went to the olive harvest in Palestine. He wrote two reports, one in German and one in English.
The photo shows Peter during a tea break in Jamain. The card is an addition and shows in green the accommodation locations and in red the main harvest places. This map originates from the Pengon organisation.



Opening of Steve Hick's art show and a new collage by him


Vigil of the Münchner Friedensbündnisses with special illumination during the cold season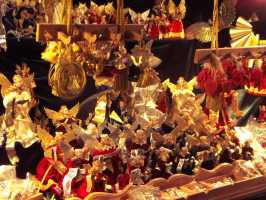 The Christmas market at the Marienplatz in center city



End of the year in Geretsried with some of the members of the Cuba group. Erwin almost empty handed.